Snowmen, Snowflakes, Wreaths And Pinecones!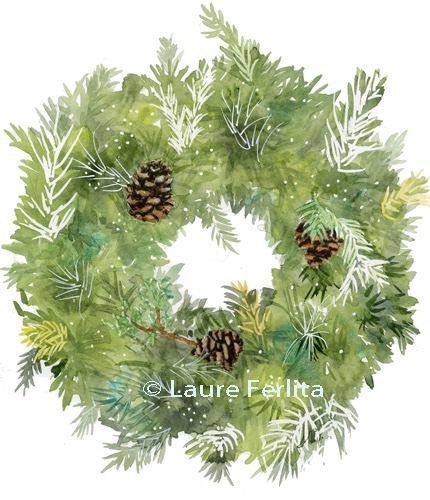 Where would we be without the faithful evergreens to help us decorate during the long winter months?! Snow serves a different purpose in reminding us of the value of slumber as we wait for spring to reappear and it can be lots of fun to play in. Snowflakes...what's not to love about snowflakes...unless it's April and there have been snowflakes falling since December?!
Still, there is much to be said for capturing these elements through our art!
The purpose of this class is to get started—EARLY—creating art for the holidays rather than waiting until December.
Creating during the holidays is something I always want to do, but juggling all those extra activities can make it tricky, if not impossible. It seems the first thing that falls off the "to-do" list is art. Do you have the same challenge? Well that's about to change! Introducing 'Tis The Season, A Year Of Festive Holiday Art!
'Tis The Season is going to be a series of lessons presented over a period of a year with a new assignment posted on the first Wednesday of each month. Each class will include two separate elements – art and lettering – with styles varying each month. The monthly project can be created in your sketchbook or as a standalone piece of art.
The assignments will focus on different approaches to each subject along with additional mediums (gel pens, white paint pens, acrylic paint, pearlescent pastels, etc.) to enhance the use of watercolor. With no time constraints, you'll have plenty of time to create your art and you'll have a minimum of a year with each lesson!
In addition, you'll get email reminders to let you know when the next class is available so you stay on track. There will even be a Facebook group for you to post your work and share ideas in!