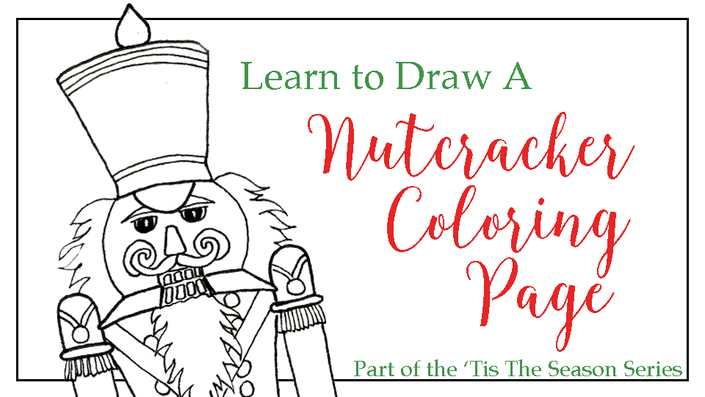 Tis The Season Holiday Class! - Nutcracker Coloring Page
Create a Coloring Page For Friends And Family!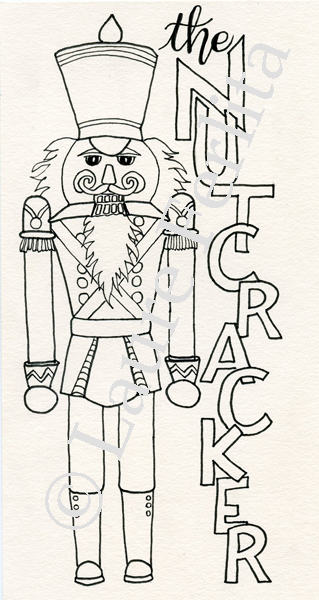 Nutcrackers are just about the best subject for coloring pages because they're easy-peasy to draw (especially with my tracing paper transfer technique!) and the different styles in which we can create them are endless!
Are you a traditionalist or non-traditionalist? No matter, these directions will help you with both! Whether your nutcracker is tall or skinny, short and plumb or somewhere in-between, this project makes drawing a nutcracker quick and easy.
Nutcrackers often represent kings and soldiers, but they can also be created in the likeness of your favorite sports figure, comic superhero (or villain!), literary hero or to represent a profession like doctor, mailman or fisherman. Add a few "props" like a stethoscope, letters, or a fishing pole to help your audience recognize the theme.
Customizing your coloring page is also possible based on whether you're audience is young children, teens, adults or elder adults. Package up a few of your Nutcracker coloring pages with some colored markers and you have a unique gift for those unexpected occasions where you need one!
Your Instructor
Laure Ferlita is an accomplished watercolorist residing in sunny Florida. Watercolors, nature, travel, painting on location, sketching for the joy of it, and most especially, color, are her passions!
Vibrant color can be found in almost any subject and its shadows. It is her joy to bring those colors to life on paper with some paint and a little water. For many years, Laure worked as a graphic designer, so you will most likely see a strong graphic element in her work.
She started sharing her joy and love of sketching on location over at ImaginaryTrips.com in 2009 and has helped many "travelers" to find their artistic voice since then.
"Watercolor, for me, is the perfect sketching medium." Laure says. "It provides ease of use, quick color saturation, and clean up is a snap and really, you don't need much equipment. After you move past the hype of how difficult watercolor can be, you find out how much fun it is to get out there and actually create on location. It's way too much fun!"
To see more of Laure's work, please visit her blog, Painted Thoughts or her Instagram account at @laure.ferlita.
Course Curriculum
Welcome To Class!
Available in days
days after you enroll
Every Kind Of Stocking (October 2018)
Available in days
days after you enroll
Create A One-Of-A-Kind Coloring Page
Available in days
days after you enroll
Frequently Asked Questions
Can I Get A Refund?
Due to the way this class is constructed, there is no way for you to receive a refund once you sign up.
When Do Assignments Post?
A new class will be posted on the first Wednesday of every month by 3:00 P.M. EST/EDT regardless of your sign up date.
Are The Assignments Religious?
All assignments are non-denominational but could easily be changed by the artist, if desired.
Will All Art On This Page Be Recreated In The Assignments?
The art featured on this page is concept art and may or may not become part of an assignment.