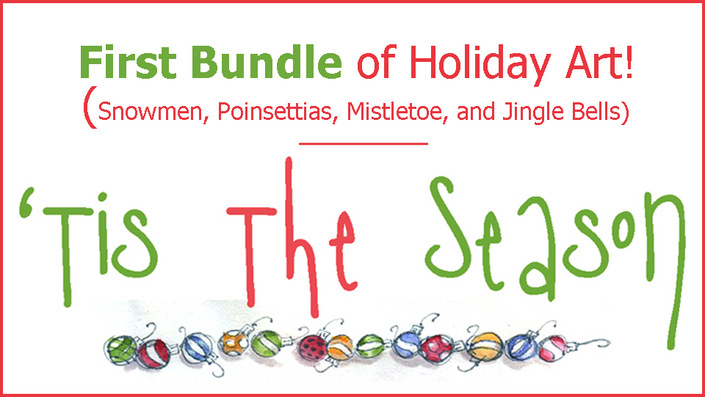 'Tis The Season Holiday Class - First Bundle
For the months of December through March, we'll be creating poinsettias, snowmen, mistletoe and jingle bells!
Poinsettia and snowmen, mistletoe and silver bells—PLUS A WHOLE LOT MORE!
Like me do you get really inspired to create art during the holidays only to realize there aren't enough hours in the day? Then this class may be for you!
Creating during the holidays is something I always want to do, but juggling all those extra activities can make it tricky, if not impossible. It seems the first thing that falls off the "to-do" list is art. Do you have the same challenge? Well that's about to change! Introducing 'Tis The Season, A Year Of Festive Holiday Art!
'Tis The Season is going to be a series of lessons presented over a period of a year with a new assignment posted on the first Wednesday of each month. Each class will include two separate elements – art and lettering – with styles varying each month. The monthly project can be created in your sketchbook or as a standalone piece of art.
The assignments will focus on different approaches to each subject along with additional mediums (gel pens, white paint pens, acrylic paint, pearlescent pastels, etc.) to enhance the use of watercolor. With no time constraints, you'll have plenty of time to create your art and you'll have a minimum of a year with each lesson!
In addition, you'll get email reminders to let you know when the next class is available so you stay on track. There will even be a Facebook group for you to post your work and share ideas in!
Your Instructor
Laure Ferlita is an accomplished watercolorist residing in sunny Florida. Watercolors, nature, travel, painting on location, sketching for the joy of it, and most especially, color, are her passions!
Vibrant color can be found in almost any subject and its shadows. It is her joy to bring those colors to life on paper with some paint and a little water. For many years, Laure worked as a graphic designer, so you will most likely see a strong graphic element in her work.
She started sharing her joy and love of sketching on location over at ImaginaryTrips.com in 2009 and has helped many "travelers" to find their artistic voice since then.
"Watercolor, for me, is the perfect sketching medium." Laure says. "It provides ease of use, quick color saturation, and clean up is a snap and really, you don't need much equipment. After you move past the hype of how difficult watercolor can be, you find out how much fun it is to get out there and actually create on location. It's way too much fun!"
To see more of Laure's work, please visit her blog, Painted Thoughts or her Instagram account at @laure.ferlita.
Frequently Asked Questions
Can I Get A Refund?
Due to the way this class is constructed, there is no way for you to receive a refund once you sign up.
When Do Assignments Post?
A new class will be posted on the first Wednesday of every month by 3:00 P.M. EST/EDT regardless of your sign up date.
Are The Assignments Religious?
All assignments are non-denominational but could easily be changed by the artist, if desired.
Will All Art On This Page Be Recreated In The Assignments?
The art featured on this page is concept art and may or may not become part of an assignment.