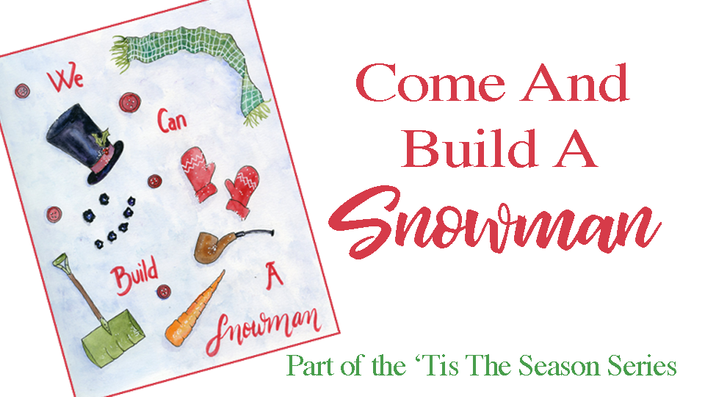 We Can Build A Snowman! - A 'Tis The Season Holiday Class
Using a grid to create this art makes it simple and fun!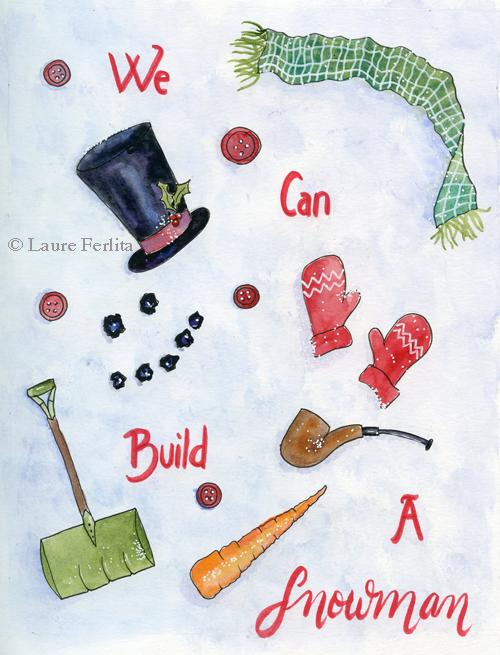 So many of us have fond memories from childhood of building a snowmen and it's kind of fun to be able to "assemble the parts" now without getting bundled up, going outside, getting cold and wet only to come back in to get warm and dry!
But there are some questions we need to answer for our adventure:
What color is snow?
What kind of snow-being do I want to build?
How can I organize all the items to show what kind of snowman I'm building?
In this class, we tackle two ways to create a snowy background before we decide what kind of snowman we want (and there are many different kinds!). Then we look at how to "assemble all the parts" we want to use as well as organizing them on the page using a grid system. Last, we'll working on our lettering and adding those final details!
When we're done, we have a fun piece of our art for sharing as a card, a newsletter and it's also appropriate for framing!
Come and join the fun!
Your Instructor
Laure Ferlita is an accomplished watercolorist residing in sunny Florida. Watercolors, nature, travel, painting on location, sketching for the joy of it, and most especially, color, are her passions!
Vibrant color can be found in almost any subject and its shadows. It is her joy to bring those colors to life on paper with some paint and a little water. For many years, Laure worked as a graphic designer, so you will most likely see a strong graphic element in her work.
She started sharing her joy and love of sketching on location over at ImaginaryTrips.com in 2009 and has helped many "travelers" to find their artistic voice since then.
"Watercolor, for me, is the perfect sketching medium." Laure says. "It provides ease of use, quick color saturation, and clean up is a snap and really, you don't need much equipment. After you move past the hype of how difficult watercolor can be, you find out how much fun it is to get out there and actually create on location. It's way too much fun!"
To see more of Laure's work, please visit her blog, Painted Thoughts or her Instagram account at @laure.ferlita.
Course Curriculum
Welcome To Class!
Available in days
days after you enroll
We Can Build A Snowman (May 2018)
Available in days
days after you enroll
Frequently Asked Questions
Can I Get A Refund?
Due to the way this class is constructed, there is no way for you to receive a refund once you sign up.
When Do Assignments Post?
A new class will be posted on the first Wednesday of every month by 3:00 P.M. EST/EDT regardless of your sign up date.
Are The Assignments Religious?
All assignments are non-denominational but could easily be changed by the artist, if desired.
Will All Art On This Page Be Recreated In The Assignments?
The art featured on this page is concept art and may or may not become part of an assignment.