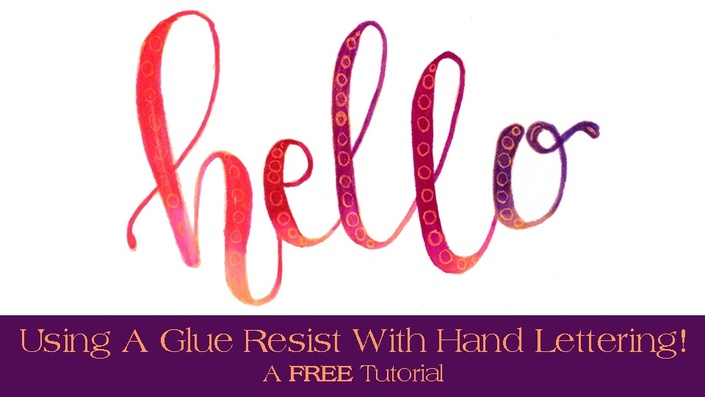 Hand Lettering Glue Resist Tutorial
Using a glue resist with for adding pizzaz to your lettering!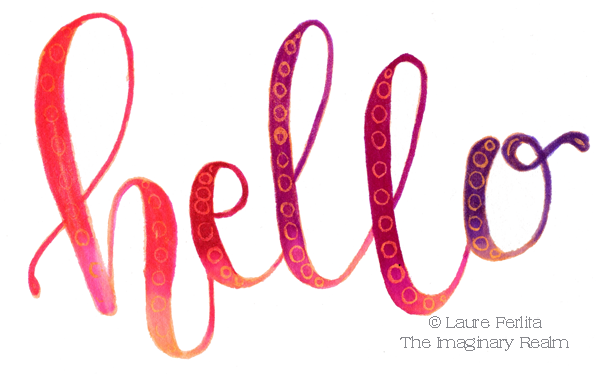 While I do NOT consider myself a letter artist (that takes lots and lots of hours), I do love to play with letters as an art form. This tutorial is taught as though you are are NOT a letter artist either! If you happen to be a letter artist, chances are good you can skip a number of the steps and get right to the fun parts.
For the rest of us...the lettering you see above was drawn out with a pencil first to make sure I liked the flow of the letters, the spacing and so forth. Color was then added with water-soluble markers. After the ink was dry, I drew the circle design you can see in the darker letters. The circles are the glue resist. Finally, as I added the top layer of color, I used a variety of colors before finishing the bottom of each letter with an ombre effect (where one color lightens into another).
The options are endless as to the fun you can have with the myriad of designs and colored markers that are available on the market! I have used a Tombow Glue Pen as well as their Dual-tipped markers to create the design. I have no affiliation with the company and did this for my own fun.
I hope you'll find this to be as entertaining as I did!
Your Instructor
Laure Ferlita is an accomplished watercolorist residing in sunny Florida. Watercolors, nature, travel, painting on location, sketching for the joy of it, and most especially, color, are her passions!
Vibrant color can be found in almost any subject and its shadows. It is her joy to bring those colors to life on paper with some paint and a little water. For many years, Laure worked as a graphic designer, so you will most likely see a strong graphic element in her work.
She started sharing her joy and love of sketching on location over at ImaginaryTrips.com in 2009 and has helped many "travelers" to find their artistic voice since then.
"Watercolor, for me, is the perfect sketching medium." Laure says. "It provides ease of use, quick color saturation, and clean up is a snap and really, you don't need much equipment. After you move past the hype of how difficult watercolor can be, you find out how much fun it is to get out there and actually create on location. It's way too much fun!"
To see more of Laure's work, please visit her blog, Painted Thoughts or her Instagram account at @laure.ferlita.
Course Curriculum
Welcome To Class!
Available in days
days after you enroll
Sketching Nature's Brilliance
Available in days
days after you enroll