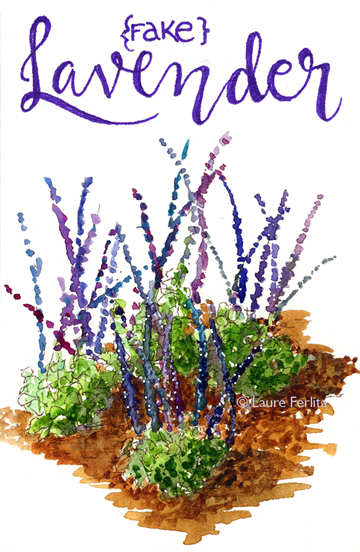 Gentle waterfalls, sparkling koi ponds, shaded walkways, lavender gardens, green houses, topiaries, green houses and special gardens of bromeliads, succulents, orchids and more...so much more! And it can all be found in Marie Selby Botanical Gardens!
There is color EVERYWHERE along with texture and values from the softest pinks to brilliant violets and magentas. From the exotic to the familiar, Selby Gardens is a paradise located near downtown Sarasota, Florida. With a view of the bay to the west, the sunsets are glorious behind the backlit masts of sailboats moored on the water.
Courtyards and benches with water features are found in out of the way corners. There's even a small vegetable garden!

Our Imaginary Trip To Selby Gardens will be delightfully fun and on this extraordinary trip, you'll learn how to:
• simplify complex scenes and eliminate unnecessary details
• work with color in a more confident way
• learn to suggest texture and detail in a quick but convincing way
• mix intriguing greens
• capture the essence of a scene in a limited amount of time
• exaggerate and embellish colors and values
• and best of all, you'll "come home" with an extraordinary sketchbook full of all the wonderful places we will visit!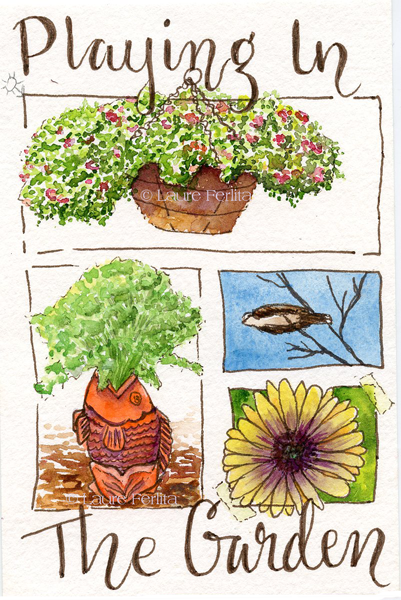 The skills learned in this class help to prepare you for going out on your own to sketch at a location of your choosing. The primary focus of the class is to help you to eliminate the details and overwhelm of trying to capture the essence of a place while focusing in on what really attracts you and to get it down on the page quickly.
Class Format
There are six assignments with video demos and pdf handouts provided so that you can see the techniques used. You have complete flexibility as to when you watch the videos as well as how many times once you've enrolled.
Some "travelers" find it helpful to paint along with the video, pausing it as needed to learn the techniques Laure is demonstrating. Others watch the video and then apply to a photo reference of their choosing.
This Independent Learning Class is a great learning style is for those artists who have a demanding schedule, for those not interested in participating in the private blog environment, or feedback from Laure. It is also an excellent format for those artists who work slowly and have no desire to work faster or to work on location.

The artist will have access to the materials for one year from the date of class start* (April 27th, 2017). All handouts can be downloaded and kept. Videos can be watched as many times as the artist wants, but are not downloadable.
*If the artist signs up for the class after April 27th and before June 1st, the class materials will come online in a weekly format. If the artist signs up for the class after June 1st, all materials are available upon enrolling.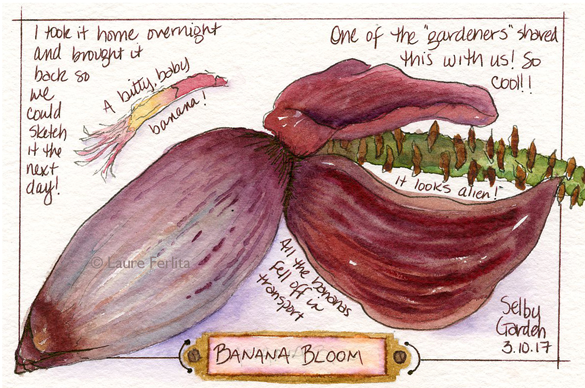 Art Skills
Students who enroll in this class should have the following:
Basic drawing skills including an understanding of shapes, shading, and values
Basic painting skills including an understanding of washes, values, shaping and shapes (While it is not necessary for you to use watercolor, all demos and techniques will focus on using watercolor as the main sketching medium)
Computer (User) Skills
Use of email (to receive assignment notifications)
Participation in a blog environment if participating in the Interactive or Combination Class (how to post images, how to post comments; instructions are given to get you started)
Computer Technology Requirements
Computer with high speed internet connection
Email (to receive assignment notificationss)
Scanner or digital camera (for posting images) if participating in the Interactive Class
Please Note: Interactive and Combination Class options will be limited in size.
Click Imaginary Trips for the recommended supply list.