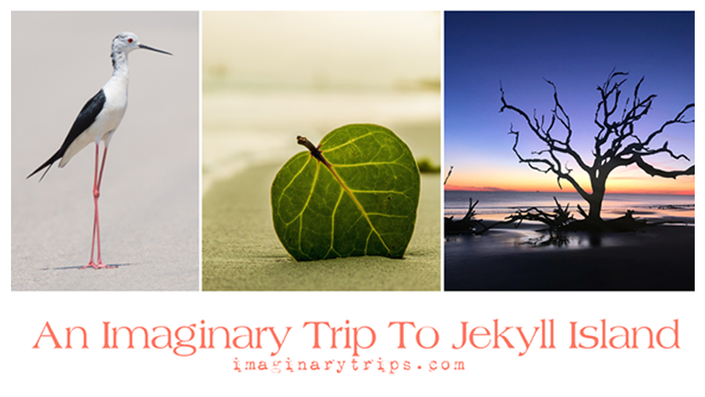 An Imaginary Trip To Jekyll Island
Come and join me for an amazing visit to coastal Georgia!
Come and Explore Coastal Georgia!
Jekyll Island is a wonderful, unspoiled location to not only explore with our sketchbooks but also to simply sit back and enjoy nature. Sprawling oaks, tall pines, sea oats waving in the breeze, marshes for miles, deer grazing onside of the road and birds of all makes calling back and forth...sounds wonderful, doesn't it?!
Come and join me as we explore some of the more unique features of Jekyll Island as well as the surrounding areas. And if this place is not on your bucket list, it should be!
SHARING MY SKETCHBOOK

In this class, I'm going to be going back to work in my sketchbook to capture more of my trip. It was impossible to capture everything while I was there and many pages are not quite complete. I invite you to join me as I show you how I "tidy" up pages and a bit of "polish" to them, add more info and capture the essence of the trip without falling into the trap of thinking I have to sketch everything.
CLASS SCHEDULE
The class will run live from October 31st through November 21st. There will be four assignments. One assignment will be posted each week during these dates. The last two weeks are for catching up! However, you can join the class at any time!
In this class, we will be exploring:
Beaches, driftwood and making color sing
The surrounding areas of St. Simons Island and Brunswick
Taking pages sketched on location and adding "polish" to them
Learning how to create "memory sketches" (from photographs) and sketching them as the same style we would if we were on the street
And a few more surprises!
If this sounds like your kind of adventure, come and join the fun!
The classes are structured to help you build your skills for drawing on location as if we were actually on location.
Imagine stepping off the bus and being told we'll be moving to our next destination in 30 minutes. That means you have thirty minutes to get something down on the page—once you find what you want to sketch! This part of the class is strictly optional. If you just love to draw and paint, you can always ignore the suggested timeframes and create at our own pace.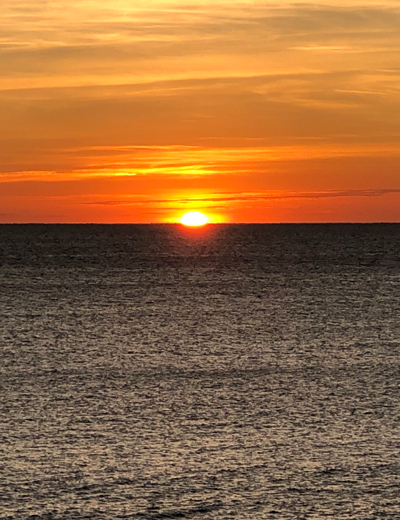 Video demos are provided for all of the assignments. All techniques are shown so that you can "see" when and where they're used. You have total flexibility as to when you watch the videos once they are posted. The demos are available for the duration of the class and you can watch them as many times as you like. Some "travelers" find it helpful to paint along with the video, pausing it as needed to learn the techniques Laure is demonstrating. Others watch the video and then apply the techniques to a photo reference of their choosing.
The recommended art supply list can be found here.
Your Instructor
Laure Ferlita is an accomplished watercolorist residing in sunny Florida. Watercolors, nature, travel, painting on location, sketching for the joy of it, and most especially, color, are her passions!
Vibrant color can be found in almost any subject and its shadows. It is her joy to bring those colors to life on paper with some paint and a little water. For many years, Laure worked as a graphic designer, so you will most likely see a strong graphic element in her work.
She started sharing her joy and love of sketching on location over at ImaginaryTrips.com in 2009 and has helped many "travelers" to find their artistic voice since then.
"Watercolor, for me, is the perfect sketching medium." Laure says. "It provides ease of use, quick color saturation, and clean up is a snap and really, you don't need much equipment. After you move past the hype of how difficult watercolor can be, you find out how much fun it is to get out there and actually create on location. It's way too much fun!"
To see more of Laure's work, please visit her blog, Painted Thoughts or her Instagram account at @laure.ferlita.
Course Curriculum
Welcome To Class!
Available in days
days after you enroll
1 - Driftwood Beach
Available in days
days after you enroll
2 - Glimpses of Jekyll Island
Available in days
days after you enroll
Frequently Asked Questions
When does the course start and finish?
The course starts on October 31st, 2019. An assignment will be posted once-a-week for four weeks. You can join in at any time! The class format option you choose will determine the end date of the class.
How long do I have access to the course?
The class format option you choose will determine the length of your access to the class materials. The Interactive Class ONLY ends on December 12, 2019. The Independent Learning Class ONLY will end on December, 2020 or later depending on the date of enrollment. The Combination Class will end on December 2020.
What if I am unhappy with the course?
We would never want you to be unhappy! If you are unsatisfied with your purchase, contact us within the first 4 days after October 31, 2019 OR from the date of your purchase if you opted for the Independent Learning Class ONLY and started class after October 31, 2019. We will give you a full refund.