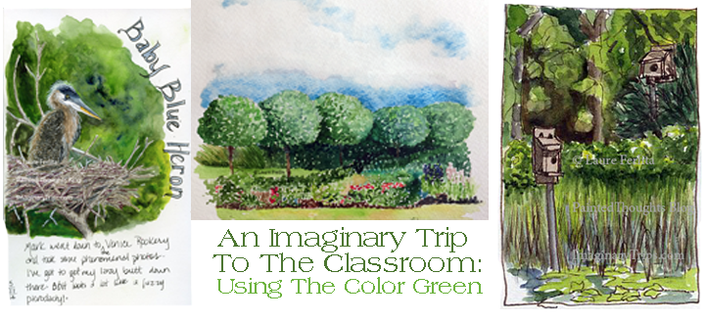 An Imaginary Trip To The Classroom: Exploring Greens
Making friends with the pigment and color, green!
The Color Green: Friend or Foe?
Too many artists struggle with the color green. Part of the struggle comes from the fact that there are few single-pigment greens on the market that look like something you'd actually find at the park. They need to be toned down which means adding other pigments. Paint manufacturers, being in the business of sell paint, heard the woes and struggles of the artist and came up with "convenience mixes."
A green convenience mix is simply a tube of paint made from pigments we mostly likely already have on our palettes (like blue and yellow), but all convenience mixes are not created equal and there is a wide variety of colors sold under marketing names like "Sap Green."
Another part of the struggle comes from our perceptions of the color rather than the colors that exist in our natural world. Blowing through or at least being aware of those perceptions can help solve some of the riddles. And last, but certainly not least, we fail to take into consideration the impact of temperature and value when we work with greens.
If you've struggled with green in your artwork can and join me as we build a better relationship with this awesome pigment!
The recommended art supply list can be found here.

Your Instructor
Laure Ferlita is an accomplished watercolorist residing in sunny Florida. Watercolors, nature, travel, painting on location, sketching for the joy of it, and most especially, color, are her passions!
Vibrant color can be found in almost any subject and its shadows. It is her joy to bring those colors to life on paper with some paint and a little water. For many years, Laure worked as a graphic designer, so you will most likely see a strong graphic element in her work.
She started sharing her joy and love of sketching on location over at ImaginaryTrips.com in 2009 and has helped many "travelers" to find their artistic voice since then.
"Watercolor, for me, is the perfect sketching medium." Laure says. "It provides ease of use, quick color saturation, and clean up is a snap and really, you don't need much equipment. After you move past the hype of how difficult watercolor can be, you find out how much fun it is to get out there and actually create on location. It's way too much fun!"
To see more of Laure's work, please visit her blog, Painted Thoughts or her Instagram account at @laure.ferlita.
Course Curriculum
Welcome To Class!
Available in days
days after you enroll
1 - Exploring Green
Available in days
days after you enroll
2 - The Values And Temperatures Of Green
Available in days
days after you enroll
Frequently Asked Questions
When does the course start and finish?
The course starts on February 20th, 2020. An assignment will be posted once-a-week for four weeks. You can join in at any time! The class format option you choose will determine the end date of the class.
How long do I have access to the course?
The class format option you choose will determine the length of your access to the class materials. The Interactive Class ONLY ends on March 26, 2020. The Independent Learning Class ONLY will end on March, 2021 or later depending on the date of enrollment. The Combination Class will end on March 2021.
What if I am unhappy with the course?
We would never want you to be unhappy! If you are unsatisfied with your purchase, contact us within the first 4 days after February 20, 2020 OR from the date of your purchase if you opted for the Independent Learning Class ONLY and started class after February 20, 2019. We will give you a full refund.